Thousands have demonstrated in "Invasion Day" protests in every capital across the country, to fight for indigenous rights and for the date of
Australia Day
to change.
While January 26 is formally recognized as the date on which Captain Arthur Phillips raised the British flag
Sydney bay
in 1788 it has become a painful memory for many indigenous communities.
The Sydney protests, held on Gadigal land, have huge turnout with thousands marching through the streets of the CBD.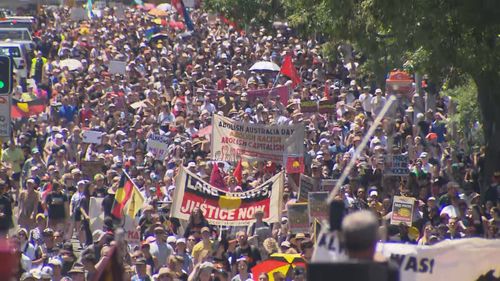 Many protesters hold signs and wear t-shirts that read "always was, always will be Aboriginal land".
Some Indigenous protesters are calling for a "No" vote on the Voice referendum, demanding that Indigenous sovereignty not be conferred by a vote of a largely non-Indigenous population.
The Melbourne protests were held on Naarm's land at Parliament House on Spring Street.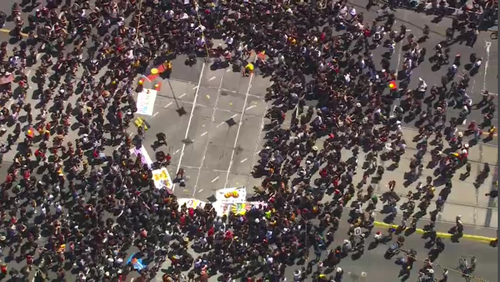 Greens senator Lidia Thorpe said Aboriginal Australians deserved "real power and action".
"They want to put the colonial constitution on top of the oldest constitution in the world. Our constitution comes from the bottom," she said.
Brisbane's Meanjin Invasion Day protest had gathered thousands of people in Queens Gardens.
It is billed as an opportunity to "remind the city that we are not celebrating genocide."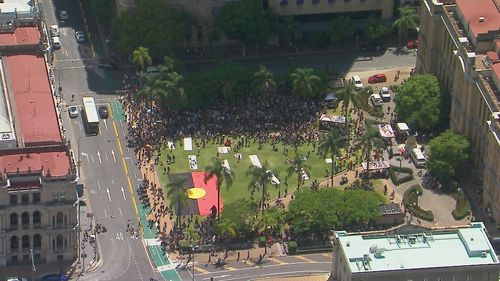 Adelaide's Survival Day march started at 12:00 PM and will end at 4:30 PM at Tarntanyangga (Victoria Square), in the city.
Perth's Invasion Day protest is scheduled for midday on Forrest Chase in the city
In Tasmania, the Nipaluna Invasion Day march started at 198 Elizabeth Street before heading to Parliament Lawns for an afternoon rally, which is busy changing the date.
Despite the protests, polls show that the majority of Australians think we should have Australia Day on January 26.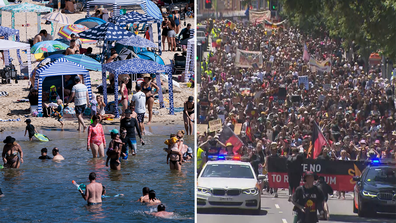 Thousands visit beaches and protests during divided Australia Day
Register here
to receive our daily newsletters and latest news alerts delivered directly to your inbox.