A ten-foot-long crocodile was on the loose in a Western Australian town after being stranded by receding floodwaters.
Police and park rangers tried to wrangle the huge freshwater crocodile with nothing but a wet towel after it was first seen at Fitzroy Crossing, about 250 miles from Broome, at 2am today.
Local Jaye Bedford contacted police after seeing the large reptile on the sidewalk while out for a walk, leading to hours of surgery to remove it.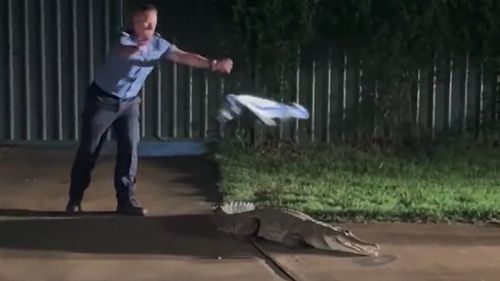 The operation with wet towels, filmed by Bedford, was unsuccessful.
The "active" crocodile snatched the towel from his head and swung it through the air with his mouth, while the police officer standing by slowly backed away.
Authorities then tried to use equipment intended to catch stray dogs, but it slipped out.
In fact, they got so desperate that they googled 'how to catch a crocodile' and watched tutorials on YouTube.
The sun had risen before local wildlife expert Tamela of Wild Life West Inc managed to calm the crocodile.
"Tamela cares for injured animals and without her help there would have been no way to safely move the crocodile without injuring officers or the crocodile itself," the WA police said.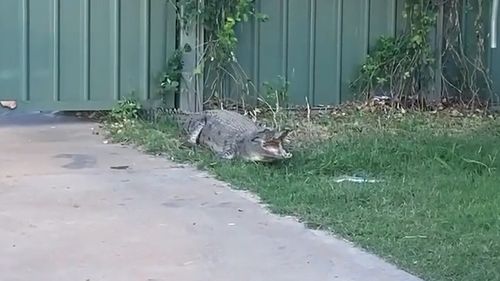 "When it was safe to do so, the crocodile was restrained and transported to a river system where it would normally live.
"The crocodile was monitored as it recovered from anesthesia and observed returning to its natural habitat."
If this had been a saltwater crocodile, which can be larger and more aggressive, it would have been moved to a crocodile park.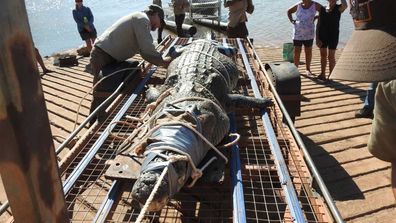 People wash their dishes in NT river near 4m croc
Stray crocodiles are common in the city after floods as they swim in swollen rivers and become stranded when water levels drop.
Local radio station Wangi Yupurnanupurru said they usually "pass through the city", but this crocodile got stuck in a drain after being swept out of the river by floodwaters.